I remember… The Alamo!
March 9, 2016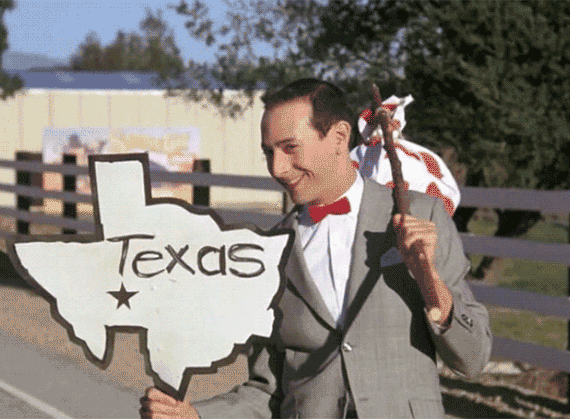 Last week I had the honor of attending my client's annual conference, this year hosted in San Antonio, Texas. For three and a half days, I assisted the marketing team as we hosted media events and press briefings, prepared executive keynotes, and ate our weight in guacamole.
With the conference center a mere 10-minute walk from the famous Alamo Mission, I couldn't resist taking a lunch break to visit the scene of the crime.
Which crime, you ask? Why, the theft of Pee-wee Herman's bicycle! Visions of the movie danced through my head as I made my way to the historic landmark.
There it was, nestled in a neighborhood that brags a Ripley's Believe It or Not!, Fuddruckers, Haagen Dazs, and H&M: The Alamo.
For those of you unfamiliar with this classic tale, Pee-wee's Big Adventure (1985) is a comedy (very loosely) based on the 1948 classic film The Bicycle Thief. Pee-wee is a friendly and well-dressed dude who has a breakfast-making machine, rabbit slippers, and a radical bicycle that his neighbor, Francis, covets. When Pee-wee's bike is stolen at the mall (you remember malls, right?), he seeks help from a psychic, who says that his bike is in the basement of the Alamo. Hilarity ensues as Pee-wee treks to Texas to retrieve his prized possession. The one thing I remember about The Alamo – that I learned in the movie – is that The Alamo DOES NOT have a basement. Other fun facts: The film was co-written by Phil Hartman (RIP!), was directed by Tim Burton (his first full-length feature film), and boasts Danny Elfman's first film score.
While The Alamo itself did not have quite the same memorable effect on me as this cult-classic movie, I am happy that I took a rare lunch break during conference to visit the site. Conferences can be a blur of press release editing, event setting, and hob-knobbing, so it is important to take a step back when possible and remember … The Alamo.
Next time on the BPR Blog … how to make the perfect Mr. Breakfast face.
Peace,
Constance